DUBATEERS Ft CHAZBO / GKC10007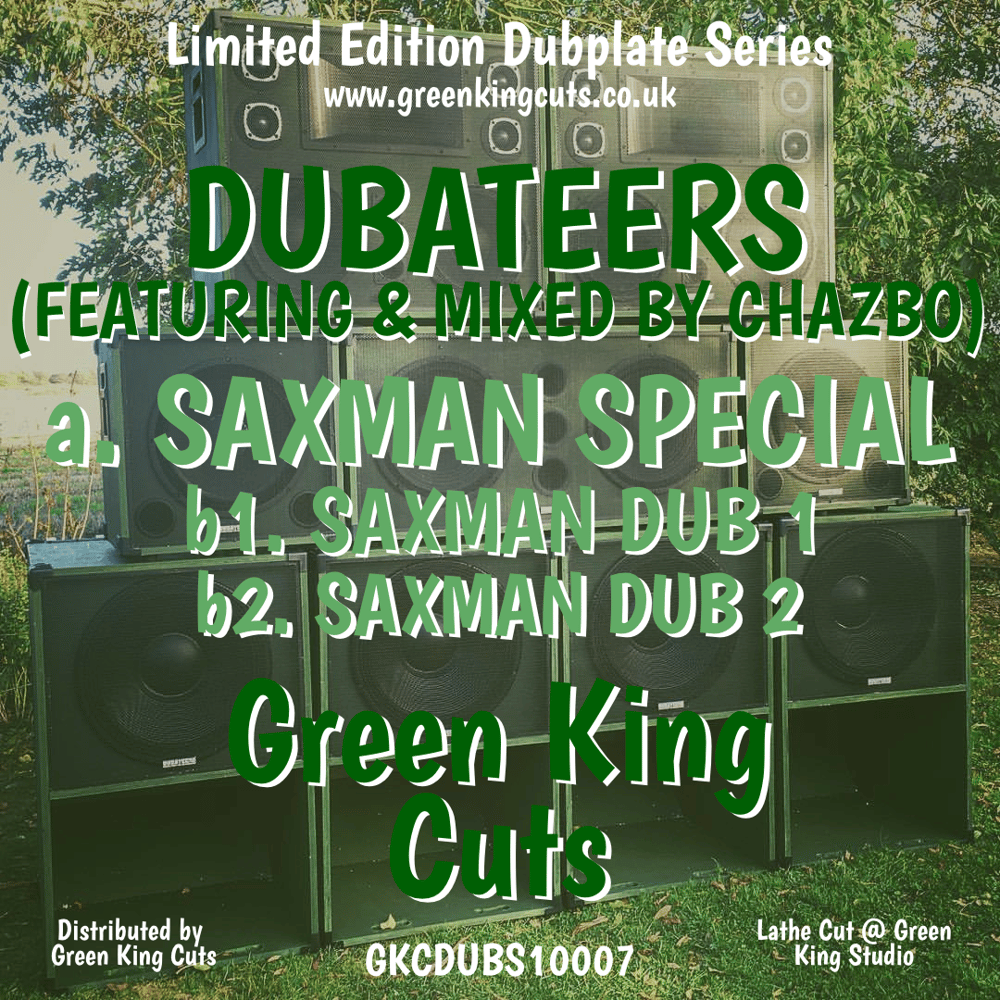 We now offer a reserve order system. You can order any records from Green King Record Shop and have them shipped out whenever you like. Build up your orders to save on shipping costs.
** Use code at check out to reserve orders : ** RESERVEORDER **
If you want previous orders shipped, please contact us at Greenkingcutsuk@gmail.com to pay and ship your bulk orders together to save on shipping.
-------------------------------------------------------
DROPS TONIGHT 7PM UK GMT 23RD DECEMBER 2020
GKCDUBS10007 featuring Artwork insert of picture above
Dubateers ft Chazbo coming with the legendary tracks entitled The Saxman special with 2 dub cuts, these were made in the early 2000's and have been running in the dance for years with the unique style and melodies of this anthem. Nick Dubateers with his hand built sound system coming out of Southend on sea greater London has provided us the chance to release this on Green King Cuts 10 inch series, which is fast becoming the series for the legends.
75 available sold on release day only available at Green King Record Shop...You cant get this anywhere else in the world.
Our latest 10" Produced by Dubateers Ft Chazbo
Mixed by Paul Davey (Chazbo)
Lathe cut & manufactured @ Green King Studio.
+ Hand stamped, numbered and distributed in Bristol by Green King Studio.
Limited edition Lathe Cut 10".
NO DIGITAL RELEASE. NO RECUT. NO RP. THESE TRACKS ARE NOT SENT TO ANYONE APART FROM SELECT SOUND OPERATORS. STRICTLY DUBPLATE!
DUBATEERS FT CHAZBO
A1. THE SAXMAN SPEICIAL
B1. DUB 1
B2. DUB 2
AUDIO/VIDEO CLIP :
https://fb.watch/2z4Os8N19e/
greenkingcutsuk@gmail.com
Give thanks for life.
(Ships within 5 weeks of orders due to Holiday break)
*** ALL ORDERS ARE TRACKED / SIGNED U.K & WORLDWIDE ***
****** DUE TO LOTS OF ORDERS GOING MISSING / LOST ******