King Alpha feat Yasmeen Amina Olya / TARGKC001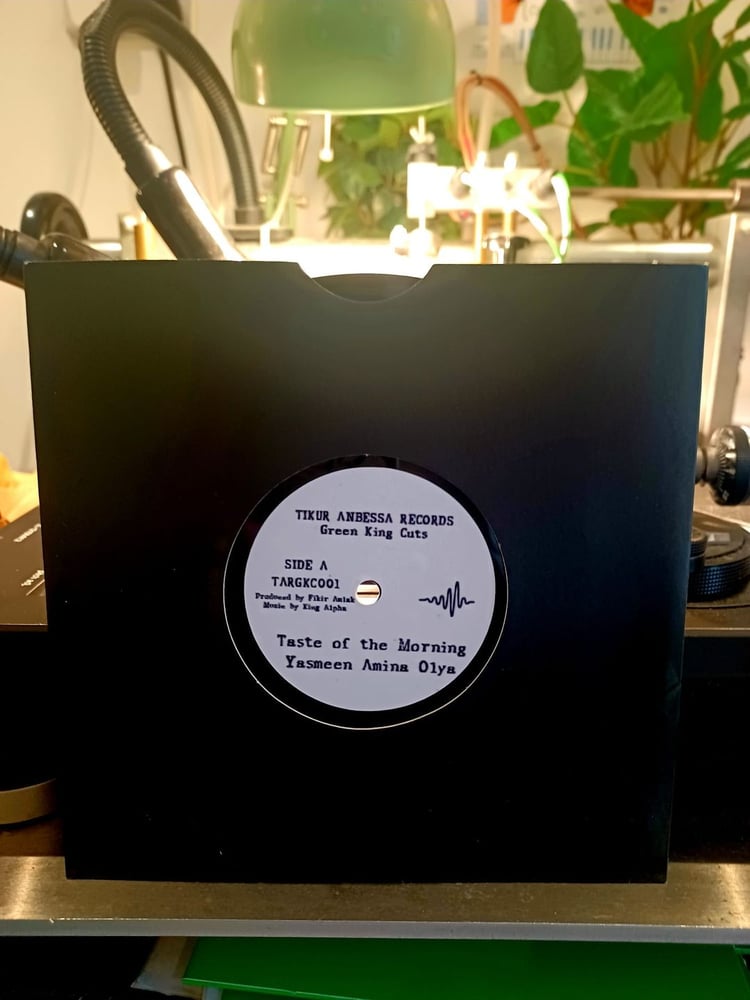 ** Use code at check out to reserve orders : ** RESERVEORDER **
We now offer a reserve order system. You can order any records from Green King Record Shop and have them shipped out whenever you like. Build up your orders to save on shipping costs by using RESERVEORDER in the checkout code. This will activate £0 shipping. When you would like your orders shipped please email greenkingcutsuk@gmail.com to pay the final shipping cost of your bulk orders you have built up over the weeks.
Many thanks.
** Use code at check out to reserve orders : ** RESERVEORDER **
-------------------------------------------------------
This is the first collaboration project featuring Fikir Amlak's new label Tikur Anbessa Records and Green King Cuts with vocals from Yasmeen Amina Olya based on a poem by Rumi and the riddim supplied by the Dub Master King Alpha. We got a few projects in mind for this and the first one will be on a 7" with a custom sticker and coloured sleeve out on 20th October on Green King Record Shop. More music more life.
`Words from Fikir Amlak below....
WE are proud to announce the launch of my record label in collaboration with Akashic Records-Reggae featuring vocalist Yasmeen Amina Olya 🇨🇦 and King Alpha Sound System 🇬🇭 👉🏾 a limited poly vinyl release with Green King Cuts out of Bristol 🇬🇧 dropping on OCTOBER 20 (TODAY) 🔊greenkingcuts.co.uk & fikiramlak.com
•
#tikur means black and #anbessa means lion in Amharic, the language of Ethiopia. By this name we remember the anti-facist resistance movement who fought against the Italian occupation, as well as Abune Yesehaq (Bob Marley's godfather) as he is known to the Rastafari people of #debrazeit and the feared black-maned lions from Ethiopia 🇪🇹 to South Africa 🇿🇦
•
After years of performing as an artist, I've decided to re-enter the production side of the industry to work with an international group of artists and musical producers to carry on HAILE SELASSIE I mission here on 🌍
Limited available
Hand Stamped
Limited Edition 7" with custom center label and black sleeve
Poly Vinyl Lathe cut
Audio - https://www.youtube.com/watch?v=9nBvoDKnjUk
Lathe Cut @ Green King Studio
Mastered @ Green King Studio
Bristol
UK.
Ships within 4 Weeks
Love from Green King Record Shop.